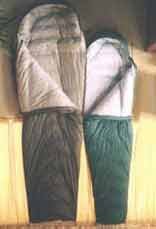 Long Down Sleeping Bags
Item #: D3300
Finally, a long sleeping bag for us tall folks! Your head will be covered and your feet will not be jammed into the bottom. These Long Down Sleeping Bags are available with several amounts of down for any sleeping condition from 20F to -25F.
These Long Down Sleeping Bags are made in the U.S.A. using Prime Down. The mummy style head piece features a shoulder piece, zipper flap, inside pocket and slant tube construction. Nylon breathable shell in gray. Lining is 100% super soft cotton that is warm to the touch. Stuff bag included. Washable in a home system.
The Tall and Standard models can be zipped together by specifiying the zipper location. Select the zipper side - right or left - based on if you are lying on your back in the bag. The Tall and Regular bags can be zipped together.
Approximate dimensions when the bag is lying flat: 102" long, 36" at shoulder and 28" at feet. Our long bag is only available in the color grey.
Sorry - this item is temporarily unavailable.